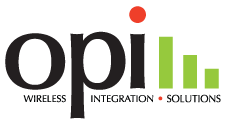 Optical Phusion, Inc.
Q2 2022 Newsletter
Product Spotlight: WS50 Android Wearable Computer
Unparalleled Functionality and Flexibility in the World's Smallest All-in-One Android Enterprise-class Wearable Mobile Computer
Connect your disconnected task workers with Zebra's WS50 — the world's smallest all-in-one Android enterprise-class wearable mobile computer. It's rugged, modular and at home everywhere — from manufacturing and warehousing to retail and hospitality.
Award-winning Order Picking Solutions from OPI & Strongpoint
An efficient picking process is key to a successful Click & Collect system. Together with our partner, Strongpoint, OPI offers an exceptionally efficient, adeptly accurate and swiftly scalable order picking solution!
Visit our Click & Collect page to learn more about OPI Order Picking Solutions utilizing top-of-the-line hardware from Zebra Technologies.
AWARD-WINNING
OPI partner, Strongpoint, won Best "New Retail" Solution award at the Smart Retail Tech Expo in March 2022 for this Order Picking Solution. The award celebrates the cutting-edge technology that delivers the highest level of productivity and efficiency in the online retail sector of today.
FREE WHITEPAPER
Who to Pick? 6 Things to Consider When Choosing an Order Picking Solution for Online Grocery Fulfillment
Created by OPI and Strongpoint, this exclusive, free Whitepaper explores six key things for retailers to consider as they select an order picking solution to fulfill online grocery orders that both meets customer experience expectations and is profitable for the retailer
Supply Chain Challenges Continue: Major Disruptions Compounding Impact Well into 2022
Many companies, including OPI, have been experiencing significant delays and issues for the printing supplies (labels and ribbons) market. Industry experts are expecting that we will be dealing with these difficulties and their impact for the better part of 2022.
OPI has an experienced, nationwide team of supply chain and labeling experts working daily for our customers to find the best solutions and help navigate through these disruptions. For more information about these Supply Chain issues, view our State of the Industry Infographic.
Avalon Integration Moves In!
Avalon Integration was acquired earlier this year, further expanding the Peak Technologies family of companies. Along with Bar Code Direct, Avalon has moved their headquarters into the Optical Phusion, Inc. offices in Littleton, MA.
With all three of these Peak Technologies portfolio companies operating under one roof, each with their own areas of expertise, they are able to work together to provide end-to-end solutions across multiple industries.
View Previous OPI Quarterly Newsletters