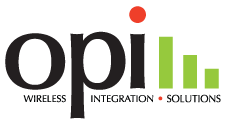 Optical Phusion, Inc.
Q4 2021 Newsletter
The GO Zebra Trade-in program is just one reason to stop putting off upgrading your outdated Enterprise Devices before the end of this year. Windows CE extended support is ending, 3G networks will soon be going dark and outdated technology is costing you more than you realize.

Product Spotlight: 
Zebra SmartSight™ EMA50
Introducing the EMA50, the retail industry's first correction action-centered mobile automation system. EMA50 autonomously and safely navigates front-of-store retail environments, but it does much more than churn out data insights.
It puts shelf data to work immediately by integrating with back-end systems, streamlining store workflows, and issuing near real-time corrective actions to store associates' mobile computers.
Unlike other automated retail mobile systems, EMA50 is built to be a singular voice of truth in your store and across your supply chain.
Matthew Ploude named VP of Technology and Engineering for Peak Technologies
Matthew Ploude will be taking on a new role in the Peak Technologies organization as Vice President of Technology and Engineering. In this role, Matthew will set the company direction for IT including managing the roadmap, execution, and support.
Matthew was previously Director of Engineering for Optical Phusion (OPI). In his role, Matthew oversaw the engineering and services for customer solutions, and managed OPI's technology infrastructure.
Matthew serves on multiple partner advisory councils for OPI partners, while also serving as an advisor to CIO's and Retail strategy boards. Matthew earned his bachelor's degree in Electrical Engineering from the University of Massachusetts.
Congratulations, Matthew!
View Previous OPI Quarterly Newsletters