Personal Shopping Solutions
What is a PSS?
A Personal Shopping System is a technology-based solution designed to enhance the shopping experience in multiple ways for customers in supermarkets and other self-serve retailers. A PSS allows your customers to scan products, look up information, and conduct a quick, secure check out all from the palm of their hand.
A Better Shopping Experience
The retail environment is rapidly evolving. With the dramatic rise of online shopping, it is critical that retailers, especially grocers, enhance the in-store shopping experience. Personal Shopping Solutions are making this happen. With instant information, no hassles and a fast checkout, PSS delivers what cutomers want.
For more information, read the Zebra Shopper Study.
Retailers who have implemented a Personal Shopping Solution (PSS) are seeing an increase in loyalty and frequency of visits, which has lifted sales. With a handheld scanning device, like the PS20 Personal Shopper from Zebra Technologies or the Joya Touch from Datalogic, your customers can retrieve instant information, as well as scan items as they shop for faster checkout. The result? Your customers spend less time in the store, save more and purchase more, boosting customer satisfaction, basket size and sales.
Month Return on Investment (ROI)
Increase in Employee Productivity
Increase in Customer Loyalty
SAVE TIME
PSS means faster checkout since the shopper's items are already scanned and bagged. Customers just pay and go, reducing time spent in the store by an average of 15 minutes.
SAVE MONEY
Shoppers can easily save money by receiving real-time discount information on products. Scanning as they shop also allows them to keep a running price total.
Customers Embrace Retail Technology
According to a report from Nielsen*, shoppers are readily adopting and very willing to use a variety of in-store digital and technology- based conveniences. Of those surveyed, 10% reported they already shop with store handheld scanners and another 65% said they were willing to if it was available.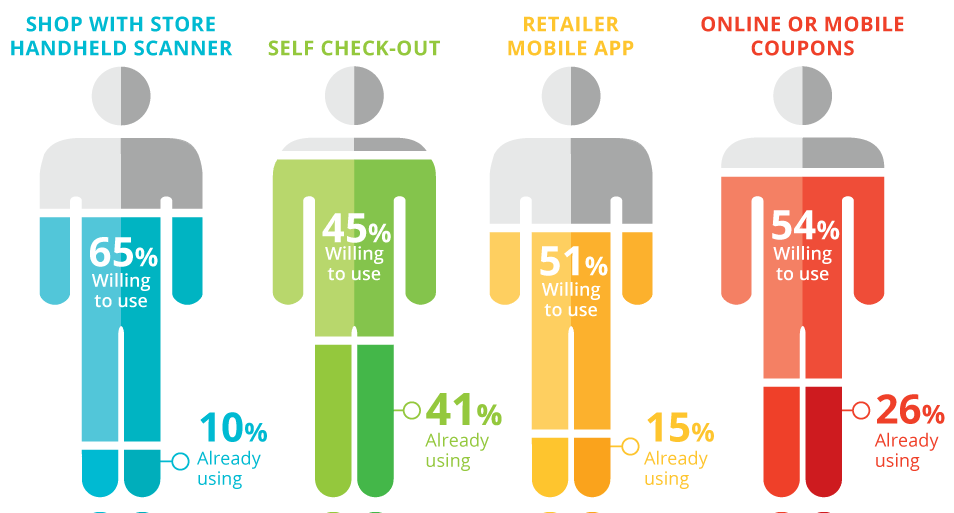 * The Nielsen Company (US), LLC (2015). The Future of Grocery. Retrieved from The Nielsen Company Website:
http://www.nielsen.com/us/en/insights/reports/2015/the-future-of-grocery.html
PSS HARDWARE
OPI offers two main options for Customer-facing scanning devices as part of our PSS Solutions. Both devices feature Large all-touch displays, similar to a smartphone screen with advanced scanning and the power to run virtually any shopping application.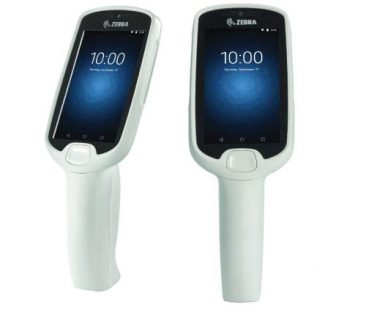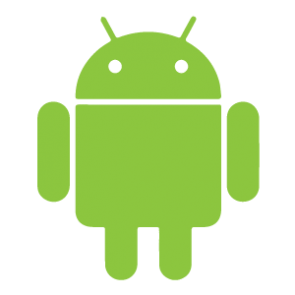 PS20 Personal Shopper
from Zebra Technologies
Building on the successful and proven MC18, the PS20 adds loads of features that propel this 'double-duty' device to the head of its class to delivery revolutionary in-store service- and staff productivity. Android provides instant familiarity. The advanced touchscreen works when wet and is easy to see in virtually any lighting condition.  Advanced scanning technology means easy first-time every-time capture of virtually every 1D, 2D electronic and printed barcode – including Digimarc support. Rich locationing support delivers one-to-one personalized coupons, discounts, shipping paths and more.
Watch our Unboxing Video to learn more about the PS20.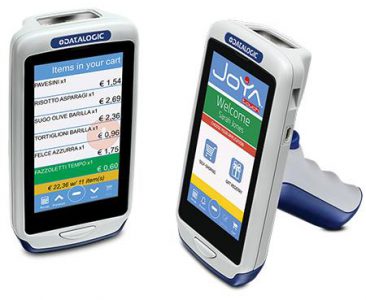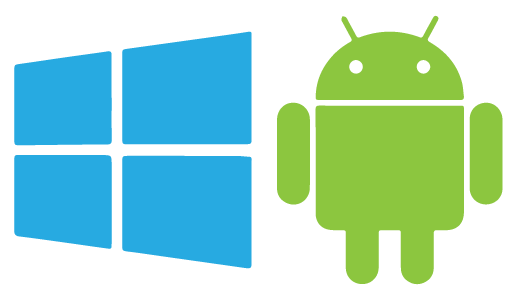 Joya Touch Self Shopping Handheld
from Datalogic
The Joya Touch Handheld is available in two models – a pistol-grip with trigger or a more compact version, similar to a smartphone-style device, with touchscreen scanning trigger. Both configurations have wireless charging with the device's "Boost Mode." The Joya Touch runs a Windows CE mobile operating system.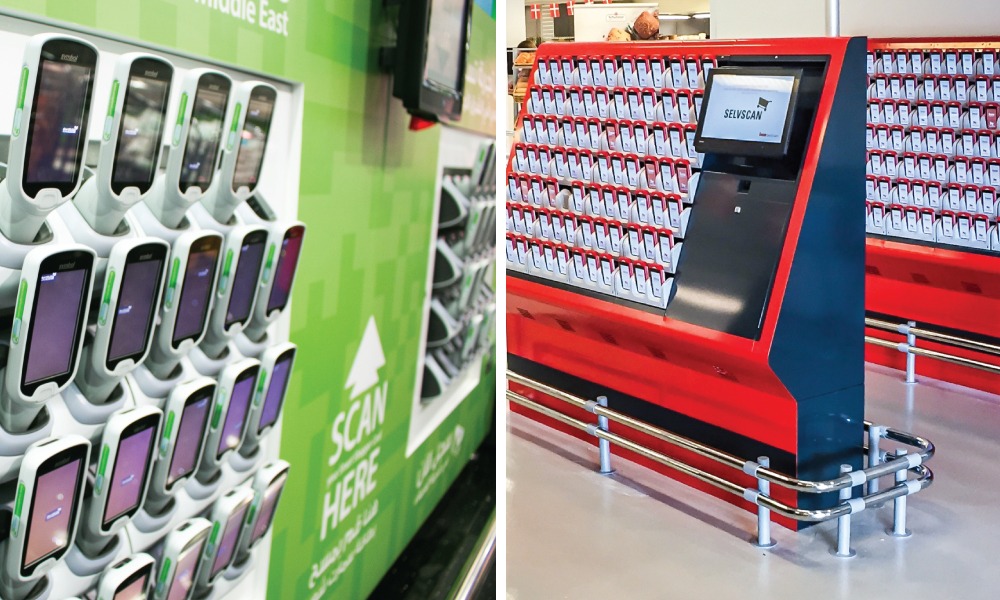 CUSTOM DEVICE RACKS
As part of an OPI solution, we can create a custom built rack to hold and charge your store's devices. The rack can be any color and custom branded. OPI custom kiosks can be integrated into the display as well.
DEVICE CRADLES
OPI can supply your store with device cradles that attach to shopping carts, keeping devices easily accesible for your customers while shopping and reducing the number of times devices are dropped.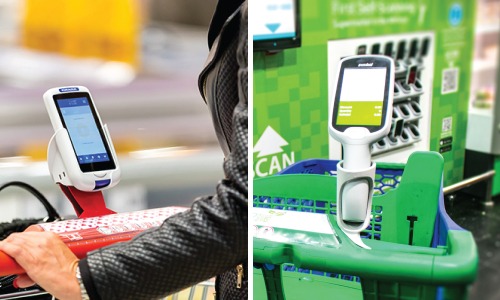 PSS SOFTWARE
Both devices support powerful mobile platforms, making for a fully-equipped out-of-the-box PSS solution.
SELF-SCANNING
Shoppers can scan and bag items while walking through the store and keep track of total price, savings and shopping lists.
SECURE MOBILE CHECKOUT
Customers can skip the check-out line and pay directly on the handheld scanner or their smartphone via the PSS Application.
ADDED FLEXIBILITY
PSS Software off ers various innovative functions like pushed promotions, mobile loyalty and beaconing. In addition, your customers have the option of using your stores' customized App on their smartphones with the same content and capabilities.
Personal Shopping Solution Resources
ReVision Video Case Study:
OPI's end-to-end approach to project management ensures the success of your PSS solution. We are your partner from the
planning stages, when we help to custom design your solution, through providing on-going help desk support and device and
system maintenance.
Mobile device management (MDM) services play a key role in a PSS Solution. Update software and control access on all of your devices from a central console. To prevent loss, each of your stores' customer-facing devices can be RFID tagged and you will receive an alert if they're taken out of the building.
OPI Mobility Depot services prevent PSS device downtime. Comprehensive Coverage includes device replacement and repairs. If you enroll in Advanced Replacement and Spares Pool Management, OPI will maintain a pool of spare devices and can quickly replace defective devices, within 24 hours where possible.
Have Questions about PSS? We Have Answers.