PRINT MEDIA
Labels, Ribbons, and Tags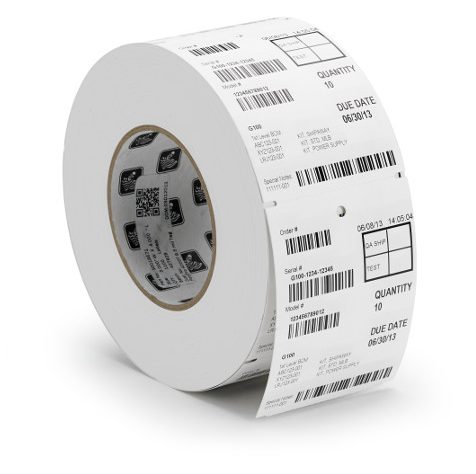 SYNTHETIC BARCODE LABELS
POLYO: Semi-rigid or flexible white polyolefin; temp up tp 200F, up to 6 months outdoors; Thermal Transfer; Standard adhesive
POLYPRO:  Scratch and smear resistant white matte polypropylene; temp up to 250F, 1-2 years outdoors; Thermal Transfer or Direct Thermal; Standard, high-tack, or removable adhesives
Z-XTREME: Scratch, smear and chemical resistant Matte Polyester available in white, silver or clear; temp up to 300F, 3 Years outdoors; Thermal Transfer; Standard, high-tack or removeable adhesive
Z-ULTIMATE: Scratch, smear and chemical resistant Gloss Polyester available in white, silver or clear; up to 3 years outdoors; Thermal Transfer; Standard, high-tack or removeable adhesive
Z-SUPREME: Matte Polyimide in White or Gloss Polyimide in white, yellow, blue, green; temp up to 500F; Thermal Transfer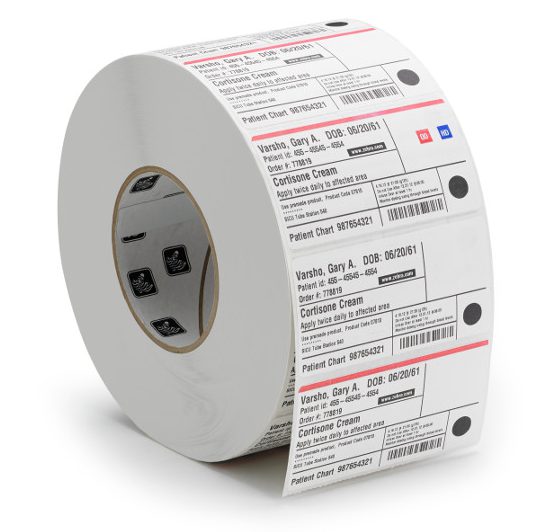 PAPER BARCODE LABELS
Z-PERFORM: Standard, bright white paper, Direct Thermal or Thermal Transfer
Z-SELECT: Premium, Ultra-smooth, bright white paper; Direct Thermal or Thermal Transfer; Standard, all-temp or removeable adhesive
IQ COLOR PAPER LABELS: Standard, bright white paper, with color in pre-defined zones; Direct Thermal; Standard or removeable adhesive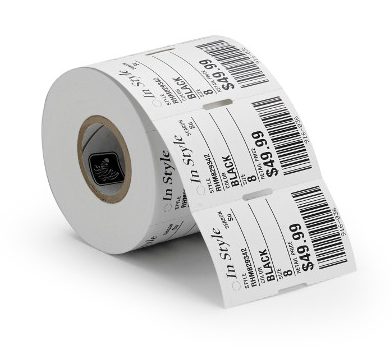 PAPER TAGS
Z-PERFORM TAGS: Standard, bright white, smooth paper, Direct Thermal in 5.3 mil thickness, Thermal Transfer in 5.0, 7.0 and 9.0 thickness
Z-SELECT TAGS: Premium, Ultra-smooth, bright white paper; Direct Thermal in 5.3 and 7.0 mil thickness, Thermal Transfer in 5.3 and 7.0 mil thickness
SYNTHETIC TAGS
POLYPRO TAGS: Scratch and smear resistant white matte polypropylene tag; temp up to 200F, 1-2 years outdoors; Thermal transfer in 7.0 mil and 8.5 mil thickness
Z-UTIMATE TAGS: Smear and scratch resistant and moderate chemical resistant Gloss polyester laminated tag;  temp up to 200F, 3 years outdoors; Thermal transfer in 8.0 mil thickness.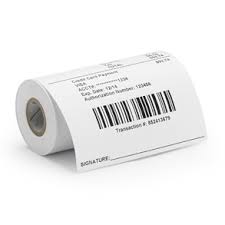 RECEIPT PAPER
Z-PERFORM 1000D 2.4 MIL: Standard, uncoated paper, 10 year archivability
Z-SELECT 1000D 3.5 MIL (VALUE) : Standard, thick uncoated paper, mproved durability and feel, 10 year archivability
Z-SELECT 4000D 3.2 MIL: Thick, top-coated paper, exceptional long-life durability, resistance and feel, Resistance to mild chemicals, minimal moisture and scratches, 25 year archivability
8000D HIGH-TEMP 3.2 MIL: Premium, thick, top-coated paper, Resistance to mild chemicals, minimal moisture, scratches and temperatures up to 194F, 20 year archivability
POLYPRO 4000D 3.8 MIL: Thick, top-coated synthetic paper, Waterproof and tearproof, Resistant to moisture, mild chemicals and scratches, 10 year archivability
Laser Printable Wristbands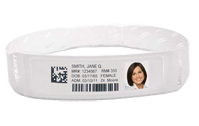 Laser Printable Wristbands
Zebra's self-laminating Laser Wristbands feature the ability to print wristbands and labels on one sheet utilizing existing laser printers.
Thermal Printable Wristbands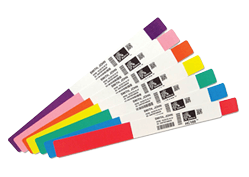 THERMAL PRINTABLE WRISTBANDS
Zebra's thermal printers and direct-print Z-Band® wristband solutions are easy-to-use, fit a wide variety of environments and require minimal IT support.
HC100 Z-Band Wristband Datasheet
HEALTHCARE WRISTBANDS:
Z-BAND ULTRASOFT    Spec Sheet >
Z-BAND DIRECT SOFT INFANT    Fact Sheet >
Z-BAND FUSION
Z-BAND DIRECT
Z-BAND QUICKCLIP
Z-BAND 4000
HOSPITALITY WRISTBANDS: Z-BAND FUN and Z-BAND SPLASH    Fact Sheet >
Wax, Resin and Wax/Resin Ribbons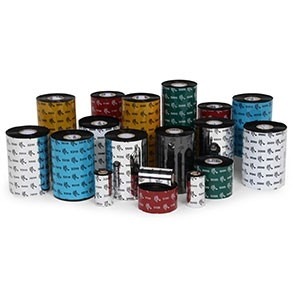 THERMAL TRANSER RIBBONS
Three formulations of thermal transfer ribbons to match your application's needs:
Wax ribbons for standard printing on paper materials
6000 Standard, 2000 High-Performance, 2100 High-Performance, and 5319 High-Performance
Wax/resin ribbons for excellent resistance to chemicals on paper and synthetics
5555 Standard, 6100 Standard, and 3200 High-Performance
Resin ribbons provide ultimate durability against chemicals and heat on synthetics
6200 Standard, 5100 Premium, 5095 High-Performance, and Image Lock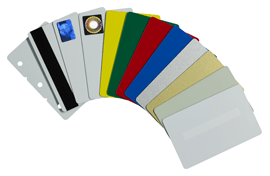 Premier PVC and Premier Plus PVC Composite ID Cards
Zebra ID Premier PVC and Premier Plus PVC Composite ID cards are guaranteed ISO-Compliant, provide high-performance image sharpness, and are made to be compatible with Zebra ID Card Printers, reducing printer wear and tear for lower maintenance costs compared to competitor cards. Cards are available with multiple custom, enhanced security features, such as embedded holograms and custom designs. Smart-card options include contact and contactless smart cards or magnetic striped cards.
Card Laminates and Overlays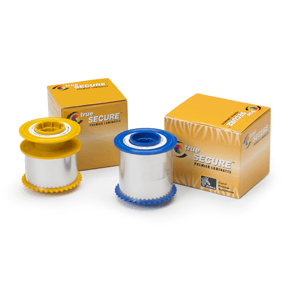 In addition to extended card life and durability, customers receive several benefits when they purchase Zebra laminates, including:
CLEAR LAMINATE
SECURITY LAMINATES (OVERT – LEVEL 1 SECURITY)
SECURITY LAMINATES (COVERT – LEVEL 2 SECURITY)
STOCK OR CUSTOM HOLOGRAPHIC LAMINATE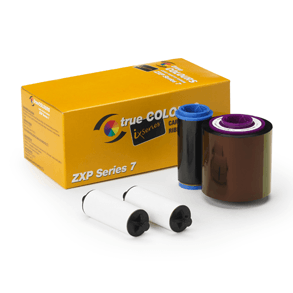 Zebra True Colors® card printer ribbons produce high-quality IDs and extend the life of your printers and cards.
True Colours I Series and C Series monochrome ribbons
Multi-Panel Card Printer Ribbons
ZXP Series 1 Load-N-Go ribbon cartridges
ZXP Series 3 Load-N-Go ribbon cartridges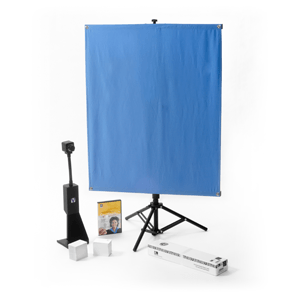 CARD PRINTER CLEANING SUPPLIES
Zebra printer cleaning cartridges, rollers, cards and swabs extend the life of your card printers and improve overall image quality.
QUICKCARD PROFESSIONAL PHOTO ID KIT
This photo ID system includes card design software, camera and supplies. This affordable kit is ideal for organizations of any size and includes: The Zebra CardStudio™ (professional edition) card design software, a high-resolution photo ID digital camera, stand and portable backdrop, and a 700-card supply kit.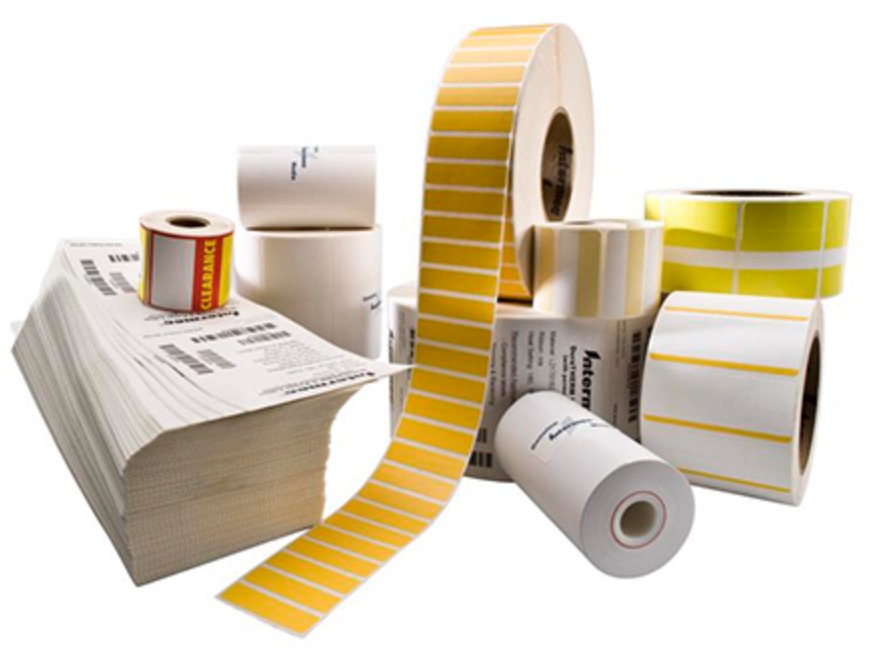 Direct Thermal Duratherm Paper Barcode Labels
Duratherm II – General purpose
Duratherm III – High humidity, moisture, surface abrasion
Duratherm III Lightning – Faster print speed, visible light scanning
Duratherm III NIR – Premium label stock for challenging, high speed environments (such as automated sortation)
Duratherm III IR – Top-coated, for environments where contamination may interfere with barcode scanning (IR scannable)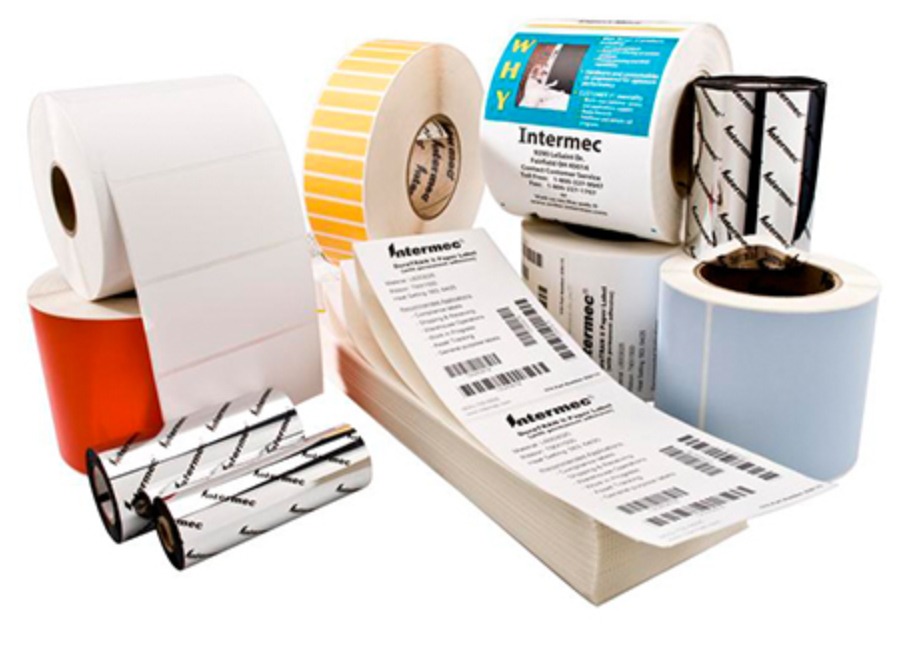 Thermal Transfer Duratran Paper Labels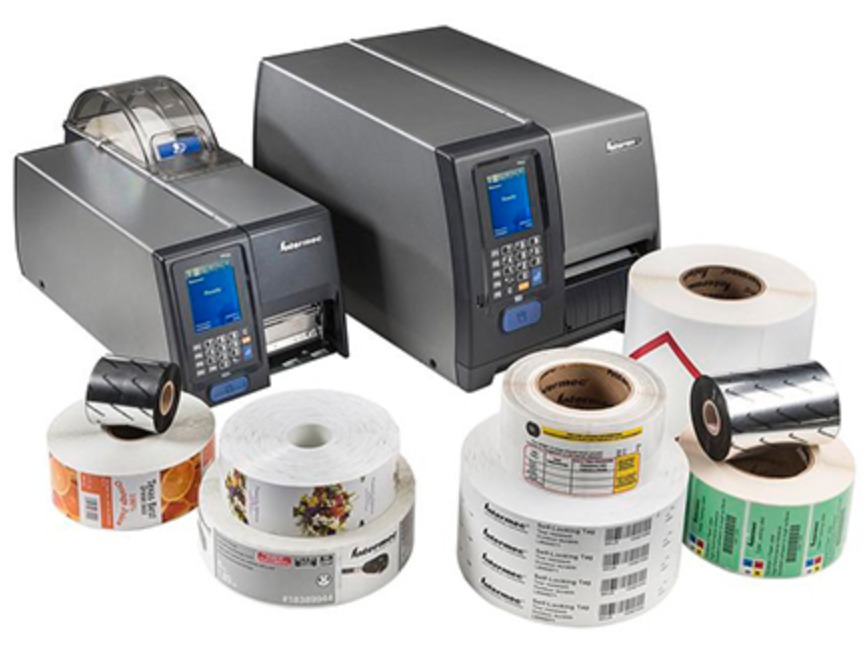 Thermal Transfer FanTastock Film Labels
FanTastock™ thermal transfer film labels are exceptionally durable when applied with thermally sensitive ink ribbons, producing barcodes that are both visible-light and infrared scannable.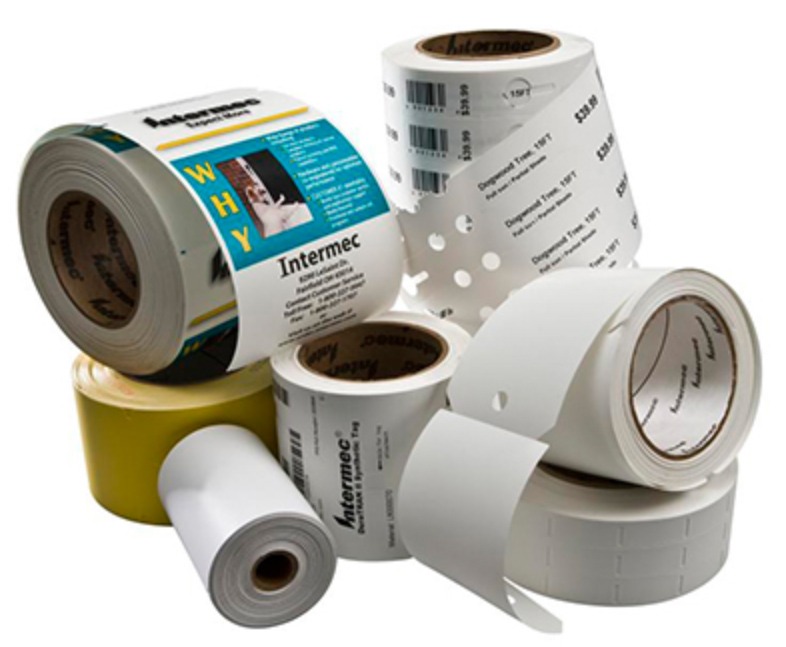 Honeywell Barcode Tag Media
Available in both paper and synthetic face stock, Honeywell tags are available across a range of price points and performance measures, so you can be assured of meeting your specific application requirements.
Both Honeywell direct thermal and thermal transfer tags deliver excellent print quality, whether you choose direct thermal or thermal transfer printing technology.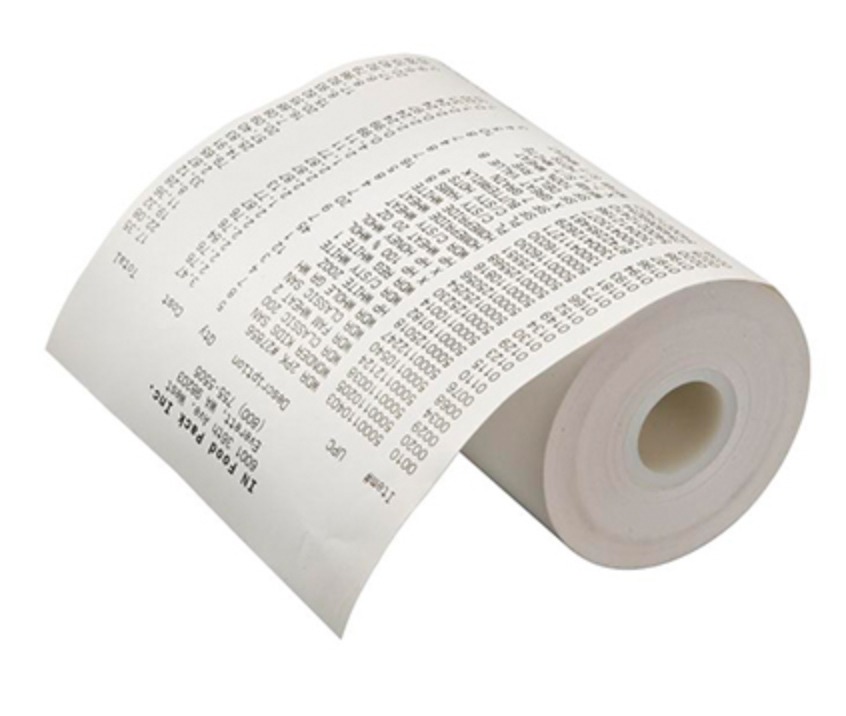 Honeywell Duratherm Receipt Media
Duratherm™ Receipts are stocked and available in both top-coated and uncoated configurations. They're well suited for most general receipt applications. Custom products – including linerless labels – are also available to meet the exacting needs of your application.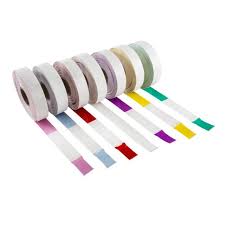 Honeywell Duratherm Inband II Wristbands
From infants to adults, Duratherm® Inband II wristbands provide the positive identification hospitals need for maximum patient safety.
Superb resistance to soaps, hand sanitizers, moisture, and other common exposures ensures standard and 2D barcodes will be scanned accurately.
Full-coverage thermal print coating enables high quality printing on the entire length of the band, eliminating the need to reposition a sleeping patient to scan their band (not recommended with green).
Flexible yet strong construction is easy to apply and offers superior patient comfort, minimizing the risk of patient tampering; antimicrobial coating further enhances safety.
A robust tamper-evident closure feature protects the integrity of the patient identification system.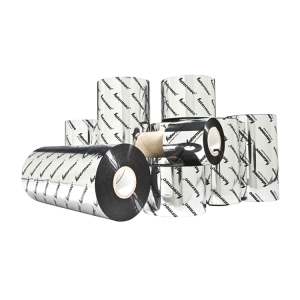 Honeywell thermal transfer ThermaMAX™ ribbons
TMX1000 Enhanced Wax Ribbon    Datasheet >
Good quality, general use, economical ribbons
TMX2000 Mid-Range Ribbon    Datasheet >
High image quality and increased abrasion and smear resistance
TMX3000 Ultra-Durable Ribbon    Datasheet >
Extremely durable, images can endure 3+ years of outdoor exposure