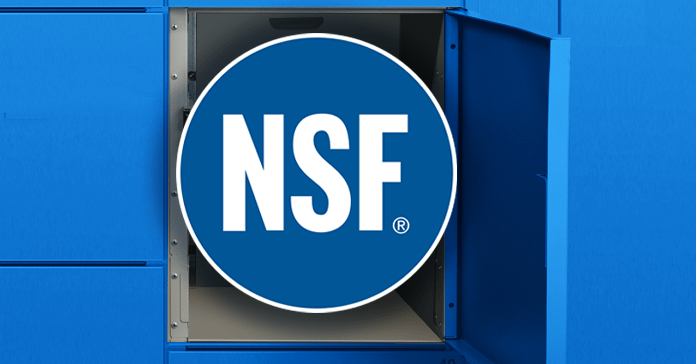 OPI Locker Stations are NSF Certified
Along with our partner, Strongpoint, OPI is proud to announce that the Locker Stations offered as part of our Click & Collect Retail Solutions have recently acheived NSF certification, confirming our commitment to quality, compliance and safety. 
NSF Certification
Products bearing an NSF certification mark meet all standard requirements, including product testing and regular inspections to verify products continue to comply with NSF standards. 
What is NSF Certification?
NSF is an international, independent organization that develops public health standards and test, audits and certifies a variety of products and services – from dietary supplements, to food service equipment, to water filters and more – in 180 countries.
Choosing a product certified by NSF lets you know the company complies with strict standards and procedures imposed by NSF. From extensive product testing and material analyses to unannounced plant inspections, every aspect of a product's development is thoroughly evaluated before it can earn our certification.
Most importantly, NSF certification is not a one-time event, but involves regular on-site inspections of manufacturing facilities and regular re-testing of products to ensure that they continue to meet the same high standards required to maintain certification over time. If for any reason a product fails to meet one or more certification criteria, NSF will take enforcement actions to protect you, including product recall, public notification or de-certification.