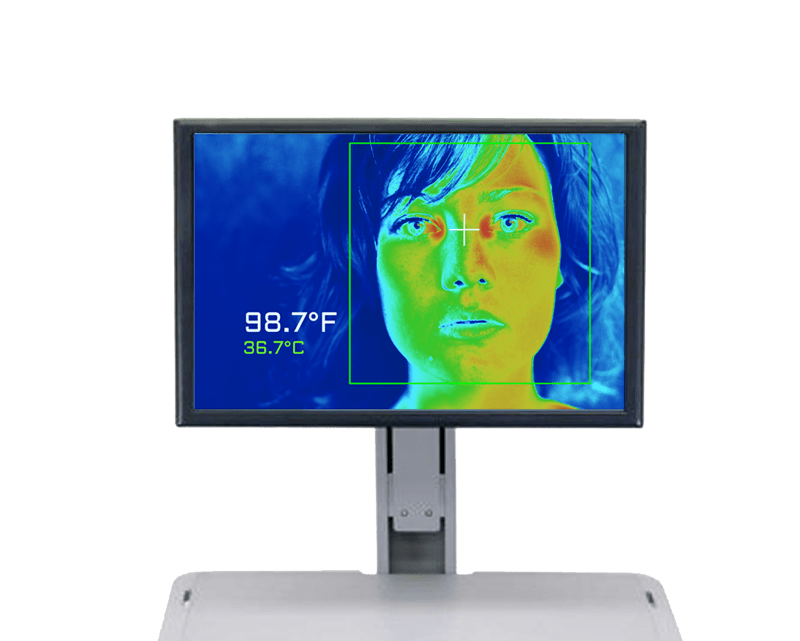 Infrared Temperature Detection
Protect Your Employees and Customers with this Contact-Free Solution
This smart, efficient and mobile temperature detection solution from Optical  Phusion, Inc. utilizes infrared temperature-sensing cameras to measure skin temperature for quick and contactless temperature screening of employees and vendors as they enter your facilities. It discreetly alerts you when high temperatures are detected.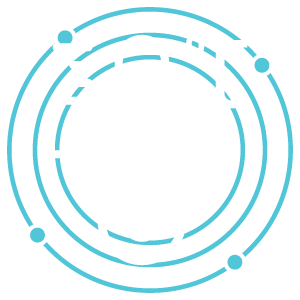 Effective
The system is easy to install and deploy, quickly scans and measures accurate body temperature and then displays data on screen in real time. There is no need for those monitoring the system to come in close contact with anyone in order to screen them.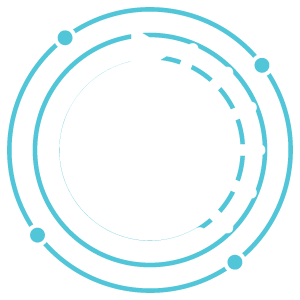 Efficient
Scanning associates one at a time with a more traditional thermometer is labor intensive and time-consuming,
risks cross-contamination and can result in wait times. This contactless system can be easily monitored by a single individual.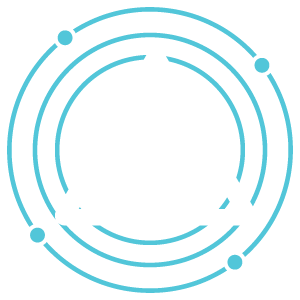 Discreet
There's no need to stop employees on their way into work and screen them in front of coworkers. When a high temperature is detected, an alert is sent, allowing you to privately approach for additional checks and further actions.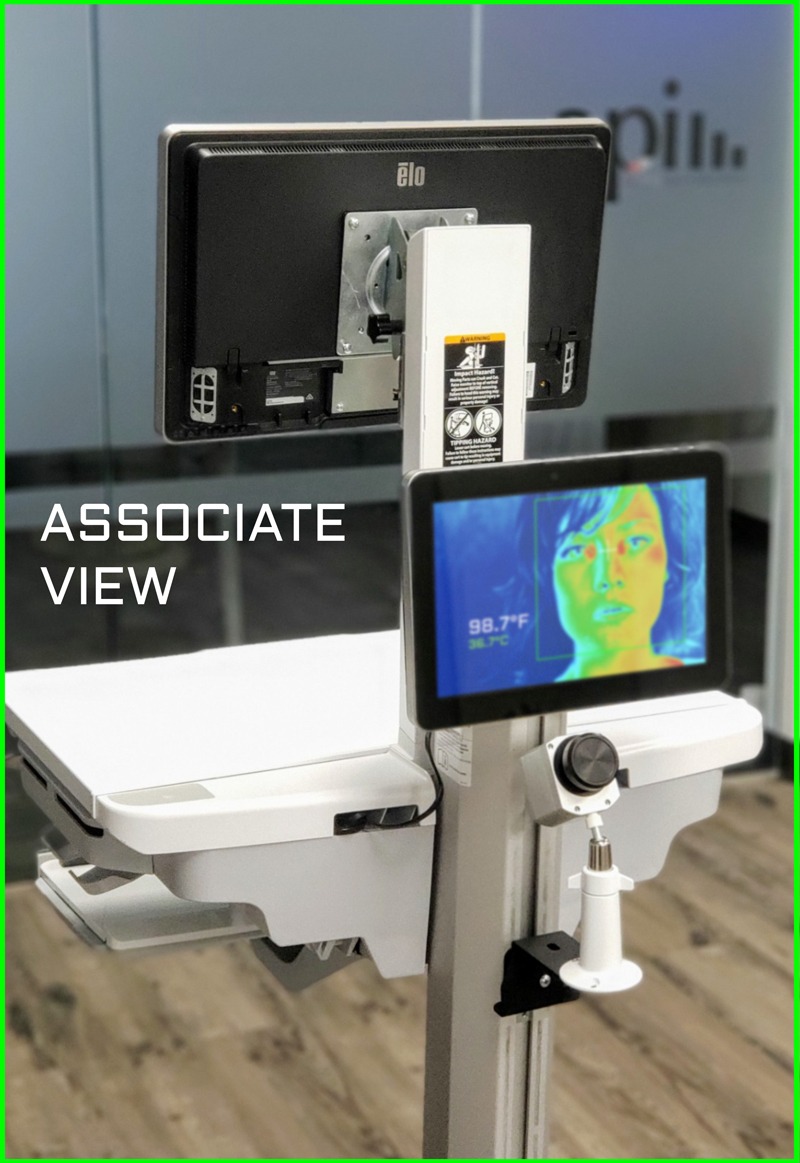 This system does not: detect or diagnose COVID-19 or any other infection and does not replace oral or other internal temperature measurements, which provide the most accurate reading of core internal temperature.  This solution is meant to be used as a fast, high-throughput screening system to determine which individuals need further temperature checking.
Easy to Deploy Screening Stations
Rugged, compact IR cameras and touch screens are mounted on a mobile cart, free-standing kiosk or counter-top kiosk. They can be configured to be monitored by an onsite resource or used by staff and visitors to screen themselves.
Associate Quickly Scanned
Upon entering the building, associates and visitors will pause at a designated location and look at the IR camera.
Temperature Accurately Measured
Temperature is measured at the Medial Canthus, or tear duct, which is the hottest spot on human face.
Attendant Discreetly Alerted
An alert will trigger if temperature exceeds system-defined thresholds.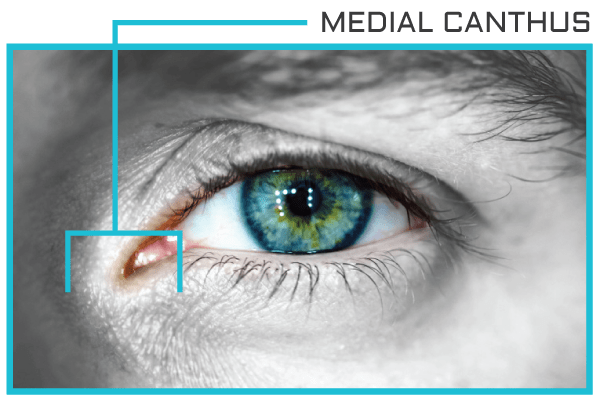 Finding the right solution.
OPI is your Infrared Temperature Detection Solution Partner and we will guide you through every step of the process. To help us create the right solution for you and help to select the screening station configuration(s) that best suit your needs, here are a few questions to consider:
What is the volume of individuals that need screening?
If you are screening associates and visitors for elevated skin temperature, how many people enter a building per day, hour, shift? If shift based, how many shifts per day?  Is there a gap between shifts?
OPI Solutions are not One-Size-Fits-All.
We can determine which configuration will work best for the traffic level specific to your facility, and where they should be deployed to avoid interruptions or slow-downs to your work day. We can make your solution flexible if the location of high-traffic changes throughout the day.
Are your entrances currently manned by reception staff or security?
Stations Developed to be Monitored - Made Easy!
OPI can develop stations designed to be monitored by available staff, including help with training and procedures so reception and security staff are able to continue with regular responsibilities.
Do you now, or do you intend to screen associates and visitors entering at unattended entrances?
Stations Designed with Self-Screening in Mind.
We have configurations that are ideal for your employees and visitors to operate themselves. OPI can help determine if these kinds of stations suit your screening objectives, and where to best deploy these stations if they do.
Do you know how the solution will fit in to your day-to-day routine?
Are you looking for help with best practices when it comes to Operating Procedures and Associate/Visitor communication related to elevated skin temperature screening?
Let OPI's Experience and Expertise be your Guide.
At OPI, we can help you determine how your solution will best fit in to your work day, what procedures and best practices should be in place for staff who will interact with the solution, and work with your HR and Legal departments in determining communication with both employees and visitors about temperature screening.
Screening Station Solutions
OPI will consider your facility, the volume of traffic and your budget when helping you select the Temperature Screening Stations, or combination of station options, that works best for you.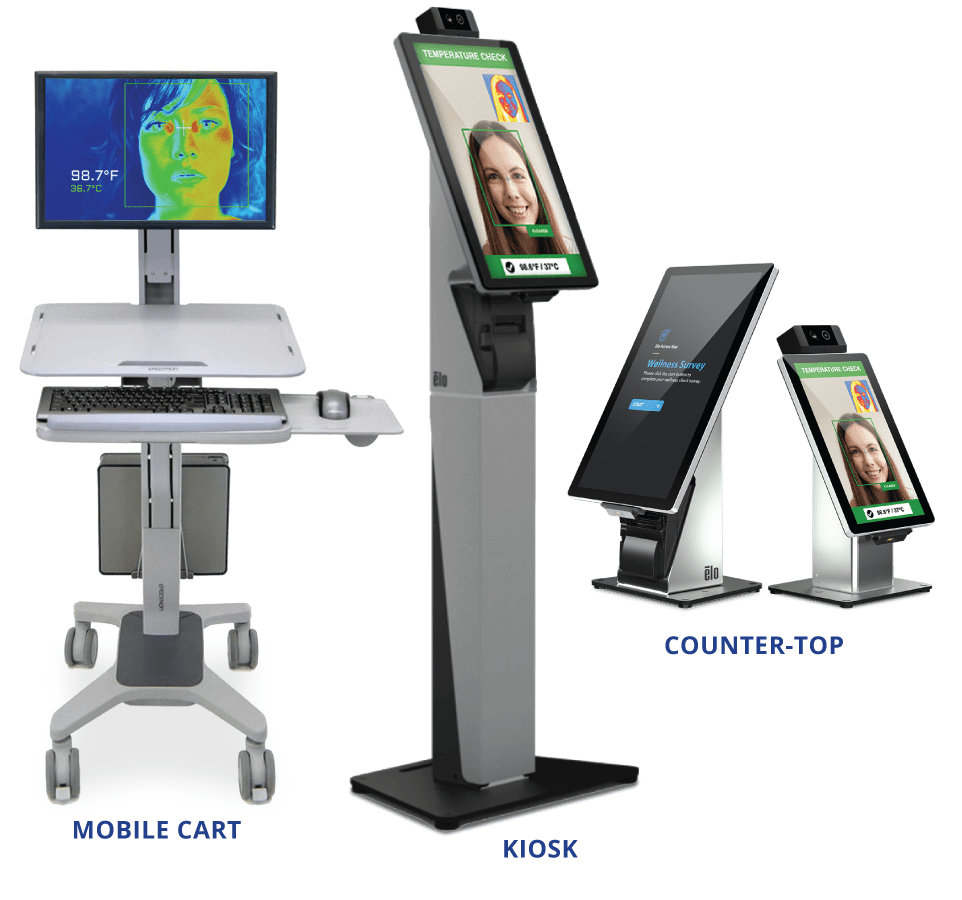 Optional Print Capabilities
Best as Monitored Station
Contact Us Today.
Give us a call at (978) 393-5900, or fill out the form at the top of the page and someone from OPI will get in touch with you.