ZD620 Thermal Transfer Printer
ZD620 Direct Thermal Printer
ZD620 Healthcare Direct Thermal and Thermal Transfer Printers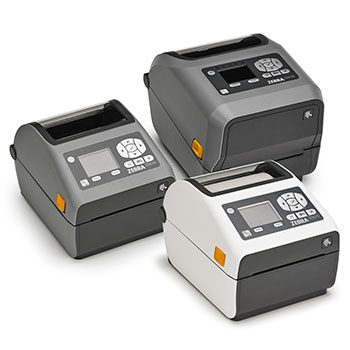 USED FOR
Work-in-Process
Inventory Labels
Shipping Labels
Receiving Labels
Asset Labels
Packing Slips
Manufacturing | Transportation | Healthcare
ZD420 Ribbon Cartridge, Thermal Transfer and Direct Thermal Printers 
ZD420 Ribbon Cartridge, Direct Thermal and Thermal Transfer Printers – Healthcare Models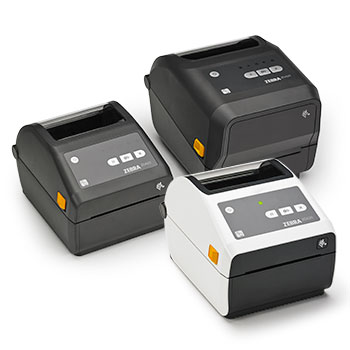 USED FOR
Agency Labels/Nameplates
Work-in-Process
Inventory Labels
Shipping Labels
Receiving Labels
Asset Labels
Packing Slips
Lab and Specimen Labels
Retail | Manufacturing | Transportation | Healthcare

USED FOR
Product Labeling
Asset Management
Inventory Management
Work-in-Process Tracking
Shipping Labels
Cross Docking
Price Labeling
Receipt Printing
Patient Identification
Retail | Manufacturing | Transportation | Healthcare
ZD410 Direct Thermal Desktop Printer
ZD410 Direct Thermal Desktop Printer – Healthcare Model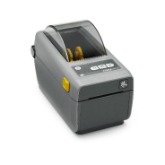 USED FOR
Narrow-Label Applications
Retail Inventory and Product Labeling
Pharmacy and Healthcare Labeling
Wristband Printing
Retail | Manufacturing | Transportation | Healthcare | Hospitality
Honeywell Desktop Printers
Easy-to-use E-Class™ Mark III direct thermal printers are affordable to own and economical to operate, yet offer features and reliability normally found in more expensive printers. They can cut your daily operational costs by minimizing power consumption and reducing the costs associated with printer consumables such as labels and ribbons.
Retail | Warehouse Management | Healthcare
Featuring a solid double-layer housing, easy paper-loading design and media auto-centering function, the compact and elegant PC42d printer is easy to operate. Powerful and reliable, the PC42d printer is well suited for a variety of low-to-mid intensity thermal printing applications – such as electronic express and logistics waybills, healthcare laboratory labels and wristbands, retail price tags and receipts, boarding passes and the like.
Retail | Warehouse Management | Transportation | Healthcare
Easy to install and ready to print quickly, the streamlined PC42t thermal transfer desktop printer is an economical choice for media up to 110 mm (4.3 in) wide. Able to accommodate large ribbon sizes, the PC42t printer can print longer before needing media replenishment, thus improving the productivity of labeling workflows.
Retail | Warehouse Management | Transportation | Healthcare