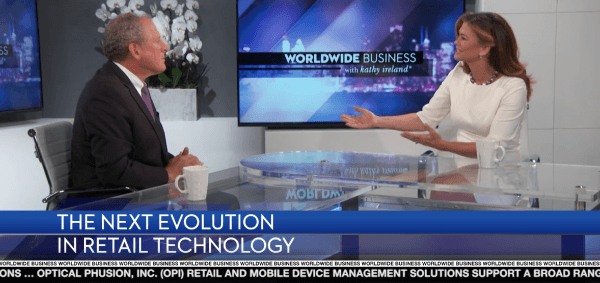 OPI President, Scott Arnold, was interviewed on Worldwide Business with Kathy Ireland along with representatives from our partner, Zebra Technologies.
When asked how OPI helps brick-and-mortar retailers face the challenges of the increasingly digital marketplace, Scott said, "it's all about the customer experience… engaging customers while they're in the store" He added that the Personal Shopping Solutions that OPI offers will be a big part of the future of retail, helping to differentiate retailers from their competition.
Juliann Larimer, Senior Vice President of North American Sales at Zebra, said that over the course of OPI's 30 Year relationship with Zebra, "[Scott Arnold] has been a visionary and innovator in our space…Optical Phusion is always trying new ideas and trying new use cases with our technology."
The interview will be aired on the following stations at the indicated times:
Fox Business Network
Air Date: July 9, 2017
at 5:00pm EST
Bloomberg Latin America
Air Date:  July 9, 2017
at 10:30am D.F. (CST)
11:30am EST
Bloomberg EMEA
Air Date:  July 30, 2017
at 7:30am GMT (Greenwich Mean Time)
3:30am EST
To learn more about OPI's Personal Shopping Solutions, please visit our Retail Solutions page.
To learn more about Zebra Technologies, and OPI's other valued partners, please visit our Partners Page.